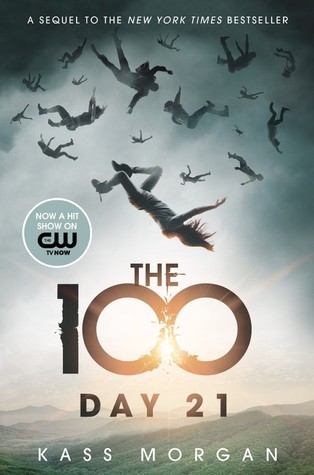 Title:
Day 21
Author:
Kass Morgan
Series:
The Hundred (#2)
Publisher:
Little Brown Books for Young Readers
Rating:
5/5 Stars
No one has set foot on Earth in centuries -- until now.
It's been 21 days since the hundred landed on Earth. They're the only humans to set foot on the planet in centuries...or so they thought. Facing an unknown enemy, Wells attempts to keep the group together. Clarke strikes out for Mount Weather, in search of other Colonists, while Bellamy is determined to rescue his sister, no matter the cost. And back on the ship, Glass faces an unthinkable choice between the love of her life and life itself.
In this pulse-pounding sequel to Kass Morgan's The 100, secrets are revealed, beliefs are challenged, and relationships are tested. And the hundred will struggle to survive the only way they can -- together.
Source: I received a copy from the publisher in exchange for an honest review. This does not affect my opinion of the book whatsoever; it's my true opinion only.
I received an e-book of this from
Little Brown Books for Young Readers via NetGalley. Thank you to the publisher for giving me a chance to read and review this.
I was so excited to get to this sequel - as you know - I loved the first book, and am completely obsessed with the TV show. It's just the whole storyline; it's so interesting - I love it!
And I just love all the characters. If I had to pick a favourite, for the girls it would be Clarke, and for the guys it would be Bellamy.
Just like with the first book, this one is told from multi-perspectives. The same characters show their parts of the story, which is a feature I adored from the first book. It's very easy to tell which person's story it is.
The book is very similar to the TV show, with a few minor differences. For one, there is a new love interest.
The beginning was good as it was straight into the story.
I liked the general storyline and honestly need the next book. I am having withdrawal symptoms!
I still like the flashbacks which explain so many things further.
Kass Morgan has an amazing writing style that is very simplistic and flows nicely.
Action, romance and swoon-worthy characters. Day 21 will leave you wanting more. If I was landing on Earth, I'd definitely bring this series with me to read.
I gave this book five stars because it's flipping fantastic. If you like sci-fi novels or books that are different and interesting, then give this a go. Also, if you are a fan of the TV show, then give this a try as it helps to settle the needs and wants of the show.
I hope you have enjoyed this review.