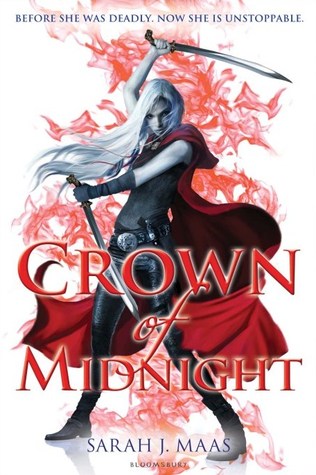 Title:
Crown of Midnight
Author:
Sarah J. Maas
Series:
Throne of Glass (#2)
Publisher:
Random House Children's UK
Rating:
5/5 Stars
Crowned by Evil.
Bound by Duty.
Divided by Love.

Celaena Sardothien, royal assassin, is the King of Adarlan's deadliest weapon. She must win her freedom through his enemies' blood - but she cannot bear to kill for the crown. And every death Celaena fakes, every lie she tells, put those she loves at risk.

Torn between her two protectors - a captain and a prince - and battling a dark force far greater than the king, Celaena must decide what she will fight for: her liberty, her heart or the fate of a kingdom...
(From Goodreads)
Source: I received a copy from the publisher in exchange for an honest review. This does not affect my opinion of the book whatsoever; it's my true opinion only.
I received a physical copy of this from
Random House Childrens Books. Thank you to the publisher for giving me a chance to read and review this.
Oh mighty wow. Why did I not continue on with this series straight away? I am an idiot!
This series is soon becoming one of my favourites. S. J. Mass knows just how to get you hooked.
So much action, romance and adventure.
Celaena is an assassin I definitely would take with me to protect me. I am jealous of her badass-ness and power. She has everything going for her. She is a fantastic main protagonist and I admire everything she does.
Crown of Midnight carries on from the first book, and is so fast-paced that I needed to make myself keep up. Before I knew it, I had finished the book. And that ending...
THAT ENDING!!!
I need to carry on with Heir of Fire soon or I will die. Literally.
I loved the story to this book, and quite clearly I need more.
I love both the prince and the captain just as much as each other. I wouldn't know who I would pick to be honest. So yes, Sarah, I'd have to pick both too if I was in a bar with them. I remember Sarah being asked this question at an event. I don't think anyone could pick to be honest.
This book deserves all the five stars it can get.
S. J. Maas never ceases to amaze me with her writing and fantastic ideas.
If you want a book full of action, romance, bass-ass characters and swoon-worthy males, then this is for you. This series will NOT disappoint!
I hope you have enjoyed this review.