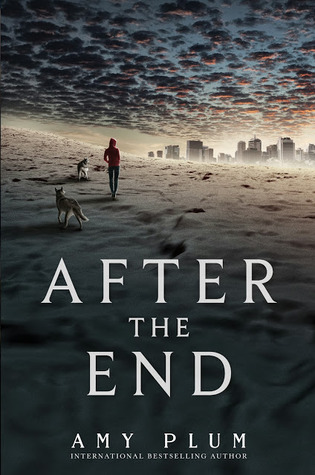 Title:
After the End
Author:
Amy Plum
Series:
After the End

(#1)
Publisher:
HarperTeen
Rating:
5/5 Stars
She's searching for answers to her past. They're hunting her to save their future.
World War III has left the world ravaged by nuclear radiation. A lucky few escaped to the Alaskan wilderness. They've survived for the last thirty years by living off the land, being one with nature, and hiding from whoever else might still be out there.
At least, this is what Juneau has been told her entire life.
When Juneau returns from a hunting trip to discover that everyone in her clan has vanished, she sets off to find them. Leaving the boundaries of their land for the very first time, she learns something horrifying: There never was a war. Cities were never destroyed. The world is intact. Everything was a lie.
Now Juneau is adrift in a modern-day world she never knew existed. But while she's trying to find a way to rescue her friends and family, someone else is looking for her. Someone who knows the extraordinary truth about the secrets of her past.
(From Goodreads)
Source: I received a copy from the publisher in exchange for an honest review. This does not affect my opinion of the book whatsoever; it's my true opinion only.
I received an e-book of this from
HarperTeen via Edelweiss. Thank you to the publisher for giving me a chance to read and review this.
Unfortunately at the time of receiving this, I wasn't in the mood for dystopian or apocalyptic books. Only until recently have I been picking them up again. Whether this is due to the current season, I'm not sure. I also listened to this as an audio book on my Kindle. I actually found it very enjoyable.
I liked the fact that this book was told in multi-perspectives. This way we get to see the sides from both main characters.
Juneau was an odd sort of character. She's lost her friends, and so goes on a journey to find them. She is determined, and as that is her main goal, nothing gets in her way. Until...
Miles. He has been expelled from school, so to get into his Dad's good books, he goes on an adventure to find this "mysterious girl" his father is looking for. He is also a stubborn character and finds Juneau to be a different sort of character.
Going on an adventure with these two was fun. I like going on journeys and seeing things develop.
When you see a male and female character, you normally think "Oh God, this is going to be another insta-love novel", but actually I didn't feel that with this one. You see the characters venture around together and discover so many things together.
Some things were predictable, but I liked how things turned out.
I think the cover to this book is gorgeous. It definitely shows the dystopian-ness of the novel.
All in all I really liked the general storyline to the book and can't wait to continue on with the next book as After the End leaves me wanting more. Damn the cliffhangers!
It can be a little slow to begin with - some may find - but if you give it a chance, it will pick up more.
I gave this five stars in the end as I did enjoy the book.
I haven't read Amy Plum's Die For Me trilogy, so after reading this, I definitely want to dive into those as I have heard some good things about them.
If you love your dystopians, or if you've read Amy's other books, then give this one a try.
I hope you have enjoyed this review.