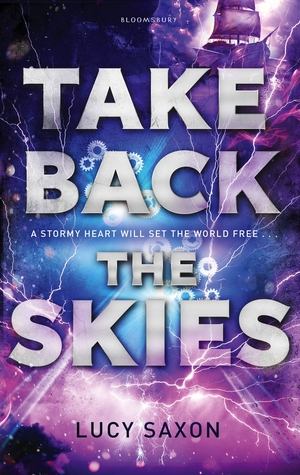 Title:
Take Back the Skies
Author:
Lucy Saxon
Series:
Take Back the Skies (#1)
Publisher:
Bloomsbury
Rating:
4.5/5 Stars
Catherine Hunter is the daughter of a senior government official on the island of Anglya. She's one of the privileged – she has luxurious clothes, plenty to eat, and is protected from the Collections which have ravaged families throughout the land. But Catherine longs to escape the confines of her life, before her dad can marry her off to a government brat and trap her forever.
So Catherine becomes Cat, pretends to be a kid escaping the Collections, and stows away on the skyship Stormdancer. As they leave Anglya behind and brave the storms that fill the skies around the islands of Tellus, Cat's world becomes more turbulent than she could ever have imagined, and dangerous secrets unravel her old life once and for all . . .
(From Goodreads)
Source: I received a copy from the publisher in exchange for an honest review. This does not affect my opinion of the book whatsoever; it's my true opinion only.
I received an e-book of this from Bloomsbury via NetGalley. I also received a physical copy. Thank you to the publisher for giving me a chance to read and review this.
First of all I just want to point out how beautiful the main cover of the book is.
It is so pretty, and all the colours go well together.
I actually wasn't expecting to like this book as much as I did. It's not the sort of novel that I warm to, but I decided to give it a chance, and I'm honestly glad that I did.
Take Back the Skies is a great adventure in the air.

Fantastic characters and amazing bonds. Very animated characters.
The only thing I didn't like was that there was a slight insta-love attraction between two characters. But it soon rubbed off on me!
Cat is kind of tomboy-ish and really cool. Fox is the male version of Cat and very like-able.

I found there were a lot of twists and turns that I didn't expect (especially the end!!).
This book is an awesome start to a new series.
It's written in second person, and the chapters are fairly short.
I really like how there is a map in the front of the book. That is a very good aspect!

Freedom, family, truth, love, battle, revolution and friendships are all contained. I liked the general storyline and can't wait to continue and see what will happen next...
You guys NEED to pick this book up!
It's awesome, and that's why I gave it four and a half stars.
I hope you have enjoyed this review.