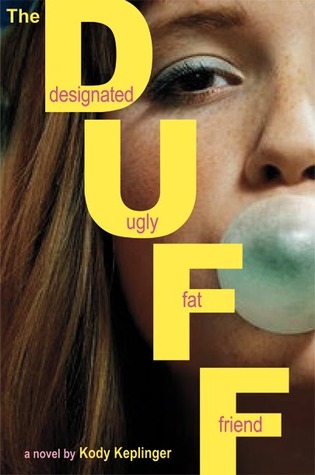 Title:
The Duff
Author:
Kody Keplinger
Publisher:
Little Brown Book/Poppy
Rating:
5/5 Stars
Seventeen-year-old Bianca Piper is cynical and loyal, and she doesn't think she's the prettiest of her friends by a long shot. She's also way too smart to fall for the charms of man-slut and slimy school hottie Wesley Rush. In fact, Bianca hates him. And when he nicknames her "the Duff," she throws her Coke in his face.

But things aren't so great at home right now, and Bianca is desperate for a distraction. She ends up kissing Wesley. Worse, she likes it. Eager for escape, Bianca throws herself into a closeted enemies-with-benefits relationship with him.
Until it all goes horribly awry. It turns out Wesley isn't such a bad listener, and his life is pretty screwed up, too. Suddenly Bianca realizes with absolute horror that she's falling for the guy she thought she hated more than anyone.
(From Goodreads)
Source: I own a copy.
I have owned this book for over a year, and finally managed to get around to reading it.
I honestly don't know why it took me so long to do that.
It is now one of my favourite contemporary reads.
Soon to be a movie, so perfect time - on my part - to read it.
This is also one of my first ever Kody Keplinger books. I now want to venture into her others after reading this masterpiece.
So Bianca isn't really a great character. She is very slutty, using Wesley, and not being a good friend at all.
Wesley is the bad boy everyone loves. He is one of those people you can't help but like.
Both of these characters change throughout the book, and you can literally see this happening.
What I liked was that there wasn't any insta-love. The romance and friendships were pure.
This novel also gives across a message that not everyone is perfect, and everyone is in fact a DUFF.
Love, friendship, famioly, trust and belief in yourself are the themes contained in this book.
For the storyline - I must admit - I didn't expect there to be so much sex. Sex is hushed quite a lot in YA books, so it was good that Kody kept this in, as that is what teenagers do.
It was a predictable story, but then again contemporaries mostly are predictable.
The story is written from Bianca's perspective, so we get to see how she deals with whats effecting her family and friendships.
I liked that the book has short chapters. It meant I could fly through the novel easily.
The writing is fantastic. Kody did an amazing job, and she has gained herself another fan.
The Duff is truly and adorable and perfect read; especially for all contamporary fans.
I gave this book five out of five stars. It's definitely going to be one of those books I whack out in the Summer to enjoy. I completely recommend that you do the same.
I hope you have enjoyed this review.