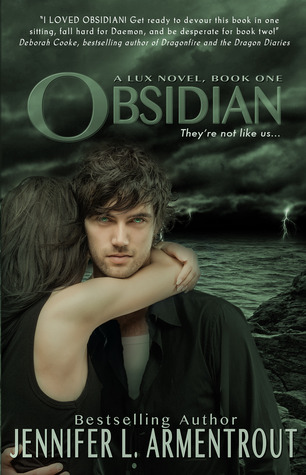 Title:
Obsidian
Author:
Jennifer L. Armentrout
Series:
Lux (#1)
Publisher:
Entangled Teen
Rating:
5/5 Stars
Starting over sucks.

When we moved to West Virginia right before my senior year, I'd pretty much resigned myself to thick accents, dodgy internet access, and a whole lot of boring... until I spotted my hot neighbor, with his looming height and eerie green eyes. Things were looking up.

And then he opened his mouth.

Daemon is infuriating. Arrogant. Stab-worthy. We do not get along. At all. But when a stranger attacks me and Daemon literally freezes time with a wave of his hand, well, something... unexpected happens.

The hot alien living next door marks me.

You heard me. Alien. Turns out Daemon and his sister have a galaxy of enemies wanting to steal their abilities, and Daemon's touch has me lit up like the Vegas Strip. The only way I'm getting out of this alive is by sticking close to Daemon until my alien mojo fades.

If I don't kill him first, that is.

(From Goodreads)
Source: I own a copy.
I first started reading this book as part of a read-a-thon. A friend actually gifted it to me, and what a gift to give!
I honestly don't know why it has taken me so long to get around to reading this.
So many people have pushed me to read this book, and I have wanted to read it, and I don't know why I kept putting it off.
I am so glad to have read and began this series.
Obsidian definitely starts the series off with a bang.
Although it doesn't end with a cliffhanger, it leads you to wanting to start the next book because of your love for this book.
I liked the general premise of the story.
I can totally understand where people come across when they say it's a bit like Twilight but with aliens.
There were some moments that did seem similar, like the stopping of the truck for example.
I did prefer this book to Twilight though.
The story didn't come across as cheesy at all. It was interesting and different.
We need more books about aliens!
What I liked abouyt Katy - the main protagonist - was that she was a book blogger and someone that I could relate too. We also share the same name, just with a different spelling, which was cool.
I immediately warmed to this character and wanted to be her friend.
Speaking of friends, Dee was one I wanted to be best friends with as she just was so ultimately cool. Sunshine literally rose from her every being, and I enjoyed every scene she was in.
Daemon is probably one of the main reasons I like the book. He is hot, sexy and mysterious.
He is that hot guy that you want, and boy do I want Daemon!
Family, friends, aliens, love, trust and super powers are packed inside this novel.
After reading this book, Jennifer L. Armentrout is son becoming one of my favourite authors.
I want to read more of her books as well as carrying on with the series.
Jennifer's writing is just amazing and flows perfectly.
I was addicted from the start and am now gagging for more!
I totaqlly recommend this book and that's why I gave it five stars.
I hope you have enjoyed this review.