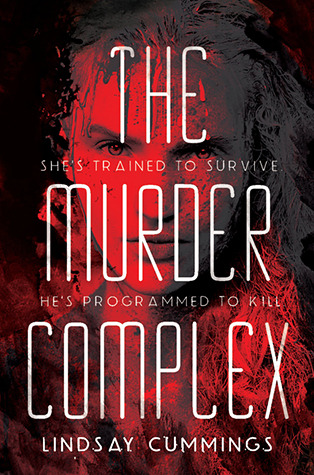 Title:
The Murder Complex
Author:
Lindsay Cummings
Series:
The Murder Complex (#1)
Publisher:
Greenwillow Books
Rating:
5/5 Stars
An action-packed, blood-soaked, futuristic debut thriller set in a world where the murder rate is higher than the birthrate. For fans of Moira Young's Dust Lands series, La Femme Nikita, and the movie Hanna.

Meadow Woodson, a fifteen-year-old girl who has been trained by her father to fight, to kill, and to survive in any situation, lives with her family on a houseboat in Florida. The state is controlled by The Murder Complex, an organization that tracks the population with precision.

The plot starts to thicken when Meadow meets Zephyr James, who is—although he doesn't know it—one of the MC's programmed assassins. Is their meeting a coincidence? Destiny? Or part of a terrifying strategy? And will Zephyr keep Meadow from discovering the haunting truth about her family?

Action-packed, blood-soaked, and chilling, this is a dark and compelling debut novel by Lindsay Cummings.

(From Goodreads)
Source: I received a copy from the publisher in exchange for an honest review. This does not affect my opinion of the book whatsoever; it's my true opinion only.
I received an e-book of this from Greenwillow Books via Edelweiss. Thank you to the publisher for giving me a chance to read and review this.
I have been highly anticipating this book for ages, so when I finally had a copy, I was so excited!
This book did not disappoint me.
I liked how the general storyline is different to most. I found it interesting. Death rate higher than murder rate? How can you NOT be interested?
It was very fast-paced and enjoyable at the same time.
It is a quick read and won't take you long. Me being a slow reader found that I flew through it with ease.
The story is told from the two main characters' perspectives. I liked this idea as we get to see from two different people.
Meadow is a very kick-ass character. She is strong, has killed before and will protect her family no matter what.
Zephyr is one of of the wards who have a specific job. I liked that he was different.
When both of these characters meet it got very interesting all of a sudden and I enjoyed it even more.
Murder, family, friendship, death and survival are contained in this thriller of a story.
Lindsay Cummings does a fantastic job with her writing and creating a fantastic plot that will keep you on edge.
I do warn: it does contain a lot of blood, guts and deaths.
From the beginning I was hooked, and I was satisfied with the ending.
I really enjoyed and can't wait to see what is going to happen next.
I loved it, so I gave it five stars. I completely recommend you give this a try!
I hope you have enjoyed this review.