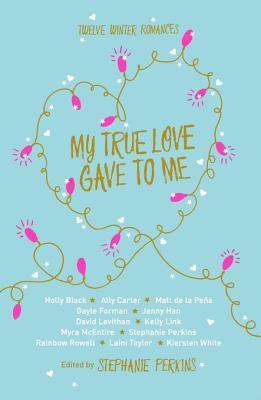 Title:
My True Love Gave To Me
Authors:
Stephanie Perkins,
Holly Black

,

Ally Carter

,

Gayle Forman

,

Jenny Han

,

David Levithan

,

Kelly Link

,

Myra McEntire

,
Matt de la Pena

,

Rainbow Rowell

,

Laini Taylor

and

Kiersten White
Publisher:
Macmillan / My Kinda Book
Rating:
4 /5 Kitkats
On the first day of Christmas, my true love gave to me ...This beautiful collection features twelve gorgeously romantic stories set during the festive period, by some of the most talented and exciting YA authors writing today. The stories are filled with the magic of first love and the magic of the holidays.
Source: I received a copy from the publisher in exchange for an honest review. This does not affect my opinion of the book whatsoever; it's my true opinion only.
I received a physical copy of this from Macmillan and My Kinda Book. Thank you to the publisher for giving me a chance to read and review this.
I started reading a story from this book every day alongside other books.
These stories definitely help you to get into the festive mood. Reading one of these a day does help to put a smile on your face.
At first I thought I was going to get confused; what with there being twelve stories and something new to get used to. This wasn't the case which was great.
This book is definitely one for the fans of contemporaries. They have romance and that extra bit of sparkle.
If I had to pick the ones I liked the most, I would have to say Rainbow Rowell's story and Ally Carter's one. Rainbow's story opens up the book to a great start. It's the perfect opener.
Ally's is near the end, so for me that ended the book well.
Each story is unique in its own way and adds to the Christmas spice. It makes you want to dive under your covers, or on the sofa with a slanky - whichever tickles your fancy - and have a hot chocolate in hand.
I have to talk about the cover design to this book, and Macmillan did a fantastic job. It's not always when I prefer UK covers to American ones, but this one is gorgeous. I can't help but warm to the pink edges. It even comes with a fabric bookmark, which of course I used!
Perfect for a Christmas read. I really liked this and would probably read again. I definitely recommend, which is why I gave it four out of five Kitkats.
If you have read this book, let me know what you thought, liked and disliked down in the comments below!
As always, thank you for reading.
I hope you have enjoyed this review.
Keep smiling, keep reading & be happy! =)