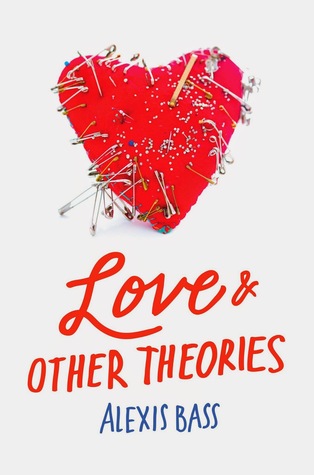 Title:
Love and Other Theories
Author:
Alexis Bass
Publisher:
HarperTeen
Rating:
4 /5 Kitkats
If you want more, you have to give less.

That's the secret to dating in high school. By giving as little as they expect to get in return, seventeen-year-old Aubrey Housing and her three best friends have made it to the second semester of their senior year heartbreak-free. And it's all thanks to a few simple rules: don't commit, don't be needy, and don't give away your heart.

So when smoking-hot Nathan Diggs transfers to Lincoln High, it shouldn't be a big deal. At least that's what Aubrey tells herself. But Nathan's new-boy charm, his kindness, and his disarming honesty throw Aubrey off her game and put her in danger of breaking the most important rule of all: Don't fall in love.
Source: I received a copy from the publisher in exchange for an honest review. This does not affect my opinion of the book whatsoever; it's my true opinion only.
I received an e-copy of this from HarperTeen via Edelweiss. Thank you to the publisher for giving me a chance to read and review this.
This was a great contemporary story about friendship, love, moving on and moving forward for the future.

I really enjoyed this storyline and characters. At times I didn't like Nathan because of his actions. And Shelby I was a bit touch and go on.

It was fun, and packed with giggles as well as seriousness. It went from light and happy times to dark times so vastly.

Completely packed full of emotions. This is one book you need to check out.

My only criticism is for me it felt a bit long and could have easily been a bit shorter as certain events seemed stretched out. It does have short chapters though, which is great.

The ending of this book is one of those that has to be controlled by your imagination. A bit like with Eleanor and Park by Rainbow Rowell.

Overall was a great read and leaves you with a smile on your face, which is why I gave it four out of five Kitkats.
If you have read this book, let me know what you thought, liked and disliked down in the comments below!
~Released 31st December 2014!!~
As always, thank you for reading.
I hope you have enjoyed this review.
Keep smiling, keep reading & be happy! =)