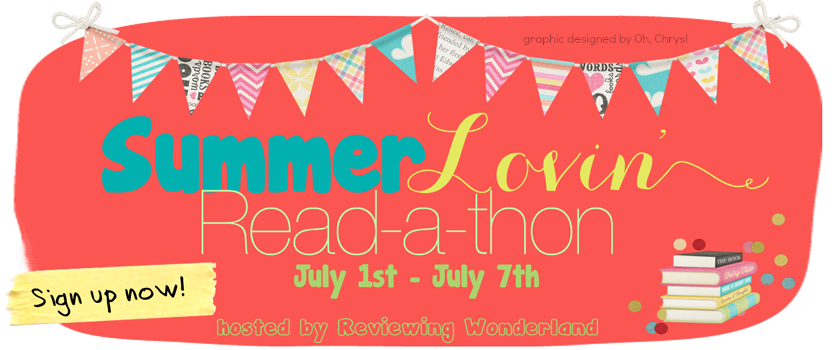 Yay the Summer Lovin' Read-a-thon is finally here. Another chance to read more book and to push myself more. This a great time for me as I have picked A LOT of books to read in July. Hopefully I can clear some of that pile.
Class Orientation: Introduce yourself
For those that don't know who I am, my name is Katie Halliday. I am 23. I work as a ride operator at a theme park in the UK. I live in the South of England with my Nan and my dog Woody.
In my spare time - apart from reading - I like to act, sing, dance and write. I'm also a big fan of Wimbledon tennis. NEW BALLS PLEASE!!
I've only been blogging since December of last year, and I never knew how much fun it was going to be. Since creating my blog, I've managed to push myself more and get back into reading again. I'm so proud of this.
I mainly read YA books, but we all know that, haha.
Goal wise, there are some books that I want to complete during this read-a-thon. As I am working 5/7 days of the read-a-thon, this will be hard. Because of this, I'm just going to enter 5 books and see how I go.
The Summoning by Kelley Armstrong

No Such Thing as Forever by Ali Cronin

The Hunt by Andrew Fukuda

The Immortal Rules by Julie Kagawa

Saved by the Music by Selene Castrovilla (E-book)
My plan is to read at least 3 of these. Of course all 5 would be awesome, but it all depends on the free time I have.
Challenge: Teaser Tidbits
Grab the book you're currently reading (or recently read)

Open to a random page

Share two (2) "teaser" sentences from somewhere on that page NO spoilers allowed! Choose passages void of spoilers. The goal is to entice, yet not ruin the book for others!

Share the title & author, so that other participants can add the book to their TBR lists if they like your teasers!

Last and but not least, link up your post using the InLinkz below so that others participants can check out your post! You must link up in order to get your participation entry point! You MUST enter using the InLinkz to get your point .
"My gut twisted, and I hurried over to help Darren and Zeke, unknotting ropes. So, Jeb wasn't being an evil bastard, after all"
I read the opening chapter of
The Immortal Rules by Julie Kagawa.
I also read 10% of the e-book
Saved by the Music by Selene Castrovilla.
All in all, my reading for today wasn't great. I was mainly watching the Wimbledon tennis, editing YouTube videos and had a rehearsal in the evening.
Hopefully tomorrow I can do better. It's my last day off for this week, so I just have to mash it all in.