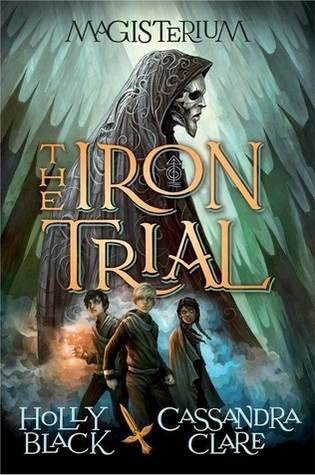 Title:
The Iron Trial
Author:
Cassandra Clare & Holly Black
Series:
Magisterium (#1)
Publisher:
Random House Children's UK
Rating:
4/5 Stars
From NEW YORK TIMES bestselling authors Holly Black and Cassandra Clare comes a riveting new series that defies what you think you know about the world of magic.

From two bestselling superstars, a dazzling and magical middle-grade collaboration centering on the students of the Magisterium, an academy for those with a propensity toward magic. In this first book, a new student comes to the Magisterium against his will -- is it because he is destined to be a powerful magician, or is the truth more twisted than that? It's a journey that will thrill you, surprise you, and make you wonder about the clear-cut distinction usually made between good and evil.
(From Goodreads)
Source: I received a copy from the publisher in exchange for an honest review. This does not affect my opinion of the book whatsoever; it's my true opinion only.
I received an e-book of this from
Random House Childrens Books via NetGalley. Thank you to the publisher for giving me a chance to read and review this.
Now, before I read this, I heard from a lot of people that the synopsis sounds like Harry Potter. It does in a sense, but if you actually read the book, it is far from it. When reading I didn't notice any similarities.

I am a Harry Potter fanatic and not once did I think this book was like it as I was reading it.
Sure it has one boy main character with a boy and girl best friend. Sure magic is involved.
But that has nothing to do with anything major. For one this story contains elements and magic control.

I actually liked this book more than I thought I would and prepared for the HP similarities, but when they didn't come I liked the story on its own.

Don't judge a book before you read it. Give the book a try before you begin to think "Oh it sounds like a Harry Potter rip off". I really dislike when people judge before they try something. You don't get far by doing that.
The general storyline was interesting and packed full of adventure. It is the beginning of a middle grade fantasy series.
I'm so grateful these two amazing authors have got together to create this fantastic start to a new series. It was entertaining in so many ways.
I loved all the characters just as much as each other.
I love the images at the start of every chapter. It keeps to book animated.
My only problem with the book was at times it seemed a bit stretched out, but it is a middle grade book. It is written well for children of that age, as well as adults like myself.
I think fans of fantasy stories like Harry Potter will enjoy this.
I loved how the book ended and I can't wait for the next book. I definitely want a finished copy of this to add to my collection. It's well worth the buy and deserves four stars. I reckon a lot of Cassandra Clare and Holly Black fans will enjoy this. And no: Shadowhunters aren't in this book; sorry to disappoint! ;)
I hope you have enjoyed this review.