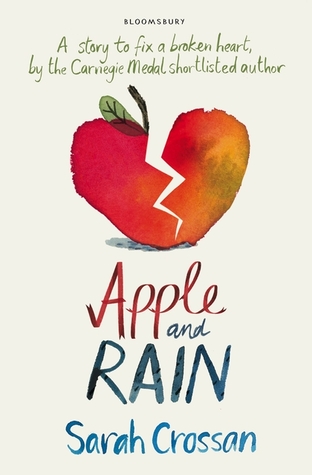 Title:
Apple and Rain
Author:
Sarah Crossan
Publisher:
Bloomsbury
Rating:
4.5/5 Stars
When Apple's mother returns after eleven years away, Apple feels whole again. But just like the stormy Christmas Eve when she left, her mother's homecoming is bittersweet. It's only when Apple meets someone more lost than she is that she begins to see things as they really are.

A story about sad endings.
A story about happy beginnings.
A story to make you realise who is special
(From Goodreads)
Source: I received a copy from the publisher in exchange for an honest review. This does not affect my opinion of the book whatsoever; it's my true opinion only.
What a heart-warming story!
I am STILL thinking about it now. This is most definitely one of those stories that will remain in your heart for a long time.
I got really emotional at this novel, so I suggest getting a box of tissues in preparation before reading this.
This is a story a
bout family and friendship. A story of people that realise who and what they truly love. It really was enjoyable and touching.
Crossan has a fantastic writing sense. She knows how to get you as well as getting a message across at the same time. She has created characters that you instantly fall in love with.
She thinks of book ideas that will make you think and will interest you at once
After reading this, I do want to attack her other books as this book was both magical and enchanting.
The cover of the book really does deceive you as you wouldn't know what the story is about.
This book just made me think that the people you love are right in front of your face. You may not realise it at first, and it may take losing someone to realise it.
I loved the main character Apple. She is adorable and I felt for her SO MUCH in this book.
This is one of those books to curl up on the sofa with. As well as having a box of chocolates and tissues beside you.
Definitely a book to make you think and to help you live on.
It deserves having the rating of four and a half stars. A beautiful story.
I hope you have enjoyed this review.