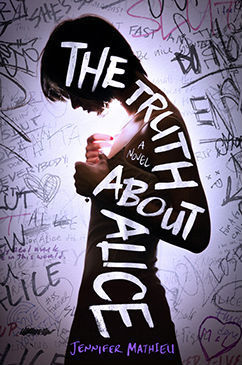 Title:
The Truth About Alice
Author:
Jennifer Mathieu
Publisher:
Roaring Book Press
Rating:
4/5 Stars
Everyone has a lot to say about Alice Franklin, and it's stopped mattering whether it's true. The rumors started at a party when Alice supposedly had sex with two guys in one night. When school starts everyone almost forgets about Alice until one of those guys, super-popular Brandon, dies in a car wreck that was allegedly all Alice's fault. Now the only friend she has is a boy who may be the only other person who knows the truth, but is too afraid to admit it. Told from the perspectives of popular girl Elaine, football star Josh, former outcast Kelsie, and shy genius Kurt, we see how everyone has a motive to bring – and keep – Alice down.
(From Goodreads)
Source: I received a copy from the publisher in exchange for an honest review. This does not affect my opinion of the book whatsoever; it's my true opinion only.
I received an e-book of this from Roaring Book Press via NetGalley. Thank you to the publisher for giving me a chance to read and review this.
This was a very interesting short contemporary stand-alone.
I enjoyed the drama that was going on and I couldn't help but feel mega sorry for the Alice character.
So many lies were bing told about her that you didn't know what to believe.
People are so mean when it comes to changing the stories and lying.
I liked how this was told in multi-perspectives. This was good as we got to see the lies and rumours from all angles.
The storyline was really interesting and had me hooked.
The writing was clear and easy to understand as it flowed through the pages.
From the beginning, I was straight in, and I was satisfied with the ending and felt happy for Alice.
There isn't a lot to say without giving a lot away. All I WILL say is: give this book a go. It's short, fun and enjoyable.
In the end I gave this four stars. A fantastic contemporary read!
I hope you have enjoyed this review.