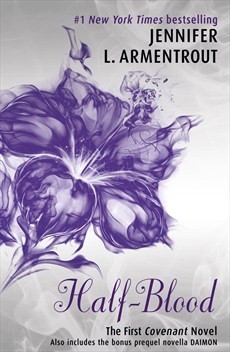 Title:
Half Blood
Author:
Jennifer L. Armentrout
Series:
Covenant (#1)
Publisher:
Hodder
Rating:
5/5 Stars
First book in the addictive Covenant series from #1 New York Times bestselling Jennifer L. Armentrout.
HALF-BLOOD is the unputdownable first book in the acclaimed Covenant series from #1 New York Times bestselling Jennifer L. Armentrout. This special paperback edition also includes the prequel novella DAIMON.

The Hematoi descend from the unions of gods and mortals, and the children of two Hematoi - pure-bloods - have godlike powers. Children of Hematoi and mortals - well, not so much. Half-bloods only have two options: become trained Sentinels who hunt and kill daimons or become servants in the homes of the pures.

Seventeen-year-old Alexandria would rather risk her life fighting than waste it scrubbing toilets, but she may end up slumming it anyway. There are several rules that students at the Covenant must follow. Alex has problems with them all, but especially rule #1:

Relationships between pures and halfs are forbidden.

Unfortunately, she's crushing hard on the totally hot pure-blood Aiden. But falling for Aiden isn't her biggest problem - staying alive long enough to graduate the Covenant and become a Sentinel is. If she fails in her duty, she faces a future worse than death or slavery: being turned into a daimon, and being hunted by Aiden. And that would kind of suck.
Source: I received a copy from the publisher in exchange for an honest review. This does not affect my opinion of the book whatsoever; it's my true opinion only.
I received a physical copy of this from
Hodder. Thank you to the publisher for giving me a chance to read and review this.
First of all, I will be honest: there are similarities between this and Vampire Academy, however, because I was so immersed into the story and what was going on, it didn't bother me. I sort of just shrugged it off.
Things will be similar between stories. Books have been around forever. It's so hard to come up with an original idea these days that doesn't have anything to do with other books.
I LOVE Vampire Academy and I also LOVED this book. It is addictive and I found it so hard to put it down. I actually fell asleep with the book in my hands. I STILL technically didn't put it down ;)
Having said all this, there are differences. There are twists in the story that do complicate things.
There is a main protagonist who you will love. There is Aidan who ANYONE will fall in love with. A guy best friend who you can't help but adore, and a powerful guy who is intimidating and adorable like a kitten at the same time. So basically SO many reasons to fall in love with this book.
Alex is a great main character. I kept on imagining if Rose from Vampire Academy and Alex meet, their friendship would be awesome. She is strong, determined and just amazing.
I fell in love with Aidan. I loved every scene that he was in.
This book was a great start to a series and I can't wait to continue!
It deserves all the stars I gave it.
Fans of Jennifer L. Armentrout need to read this.
I hope you have enjoyed this review.