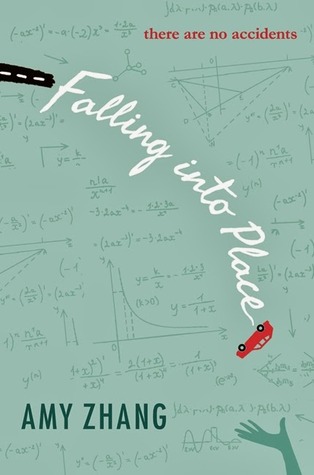 Title:
Falling Into Place
Author:
Amy Zhang
Publisher:
Greenwillow Books / Harper 360
Rating:
5/5 Stars
On the day Liz Emerson tries to die, they had reviewed Newton's laws of motion in physics class. Then, after school, she put them into practice by running her Mercedes off the road.

Why? Why did Liz Emerson decide that the world would be better off without her? Why did she give up? Vividly told by an unexpected and surprising narrator, this heartbreaking and nonlinear novel pieces together the short and devastating life of Meridian High's most popular junior girl. Mass, acceleration, momentum, force—Liz didn't understand it in physics, and even as her Mercedes hurtles toward the tree, she doesn't understand it now. How do we impact one another? How do our actions reverberate? What does it mean to be a friend? To love someone? To be a daughter? Or a mother? Is life truly more than cause and effect? Amy Zhang's haunting and universal story will appeal to fans of Lauren Oliver, Gayle Forman, and Jay Asher.
Source: I received a copy from the publisher in exchange for an honest review. This does not affect my opinion of the book whatsoever; it's my true opinion only.
I received an e-book of this from
Greenwillow Books via Edelweiss. I also got sent a physical copy from Harper 360 the publisher. Thank you to the publishers for giving me a chance to read and review this.
I absolutely adored the storyline of this book. It is a young adult contemporary standalone that deals with death and mental illness. It also does contain a bit of romance and psychology with a twist of physics.
Falling into Place will have you emotionally attatched in seconds. In this story we learn about Liz Emerson and the people around. We learn why she decided to escape from the world and attempt to leave it.
The writing is beautiful and lyrical, and I loved every single moment.
What I thought was so creative was the use of the narrator. They are unknown to us all, and it honestly had me guessing until the very end who was telling the story. I didn't expect it at all!
Liz Emerson is a character we all feel sorry for. She hasn't had the best of lives, and she doesn't realise all the amazing people that are around her. She is lonely and sad, and we can feel her silence.
The story flips around from the present to the past all the time. The chapters are also quite short.
The beginning of the story was straight there, and the ending made me almost tear up.
This book is definitely worth buying; especially if you love your contemporaries. Perfect for fans of The Fault in Our Stars and If I Stay. That is why I gave it five stars. It deserves it.
I hope you have enjoyed this review.