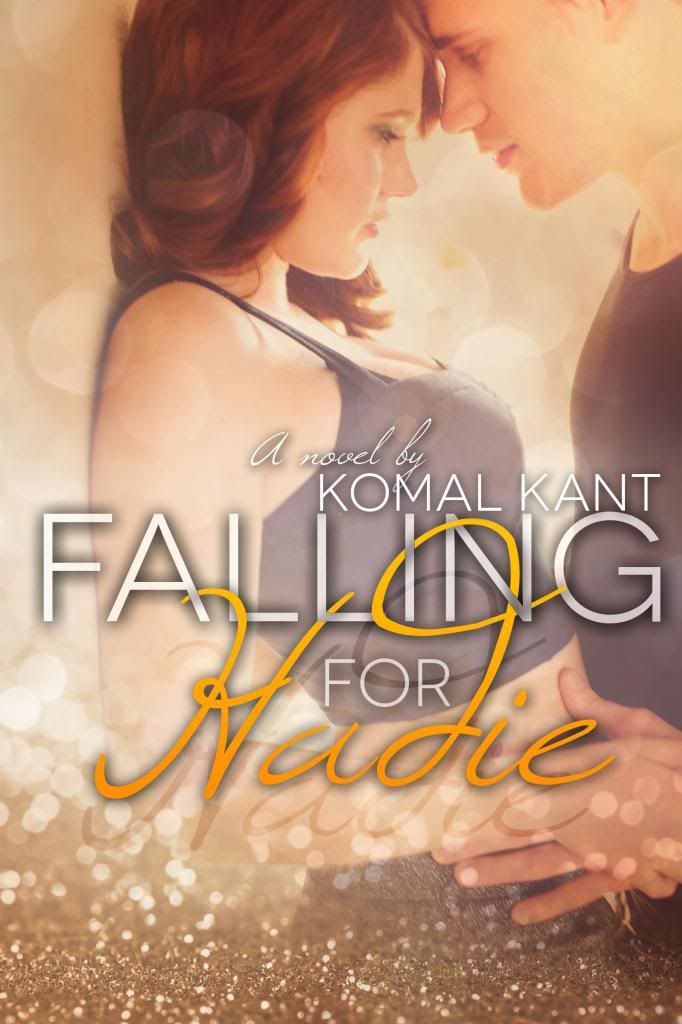 Title:
Falling for Hadie
Author:
Komal Kant
Publisher:
Self-published via Createspace
Rating:
5 stars
"Sometimes there is a single moment that changes your life forever."
Hadie Swinton is giving up on boys. After a disastrous relationship, she is convinced that all males are the same—arrogant, self-assured, and complete jerks.
Lincoln Bracks is giving up on his old life. After moving to a new town to escape the problems plaguing him, he is set against ever getting close to anyone again.
When Hadie and Lincoln's worlds collide, their intrigue for one another leads them to open up to each other against their better judgment. Despite the attraction that is pulling them together, insecurities, secrets, and shattered hopes stand in the way of them ever being together. At a time when darkness consumes their lives, Hadie and Lincoln learn that hope and love can still be found in the most unlikely place.
I received an e-copy of this for a read to review basis.
I have read Impossible by Komal Kant, and absolutely adored that book, so I was super excited to start this one. I will be honest: it didn't let me down one bit.
It was beautifully written from start to finish.
Although this is the second book in a series, you don't have to read the first book to understand it. It's a new story with new characters. Characters from the first book do appear in this one though.
It had me feeling so many emotions, and I was connecting with the book in ways that I never thought I would. Komal has talented ways of doing that and keeping you interested.
It's told from two perspectives just like Impossible. I really like this way, because we get to see both sides of the story, as well as the main character' feelings. I found myself physically connecting with these two characters. I could feel what they felt, and picture everything they were doing.
Both opposite characters. Both different from each other, yet it really is true how opposites do attract. Even Lincoln admits he didn't intend to fall for Hadie, but he did.
Lincoln and Hadie had an extremely powerful connection. They brought the best out in each other, and you could really see that within the pages.
I found myself flying through the book with ease. There wasn't a moment where I found myself bored. I wanted to know more out about Lincoln and why he moved house.
I found myself having a real hatred towards Lincoln's sister and Mum. I literally wanted to reach inside my Kindle and strangle them. They were so selfish and in no way deserved to be like that towards Lincoln.
The cover of the book looks like a predictable steamy romance book. But believe me: don't let your eyes deceive you.
It's a beautifully written romance, but with an unexpected twist near the end that had me in tears. The book does start off as having a potential to being a sweet romance. There's happiness when Hadie and Lincoln are together, but then near the end: BAM!! Everything changes.
The book ended well, even despite what happened. It had me thinking about the book, the characters and how they felt, etc. It left an imprint on my heart, and this story has definitely become a new favourite of mine.
I shed tears when I read The Fault in Our Stars by John Green, but I cried when I finished this.
This is definitely a novel that will stay with you forever. I know it will with me.
That is why I gave this book a well-deserved five stars. It's amazing and highly-recommended. Real life things happen, and it's nice to focus on things like this.
It moved me in more ways than one and was just simply awesome. You NEED to read this if you haven't. Komal Kant, you rock!
Video review:
Available as paperback or e-book.
$1.99 on Amazon for Kindle.
$7.89 on Amazon for paperback.
I just wanted to say a big massive thank you for letting me host on my blog, and for sending me the book for review =)